About us
Beca is one of Asia Pacific's largest independent advisory, design and engineering consultancies with more than 3800 amazing people. Our purpose is to make everyday better for our communities. We combine our skills and insights with those of our clients, to think, design and develop creative and sustainable solutions together.
While our experience has been more than a century in the making, it's the fresh talent we're nurturing, the innovative thinking we're developing and the connections that we're forging that gets us most excited for the future.
Which is why each year we employ up to 200 graduates and 100 summer interns across Australia and New Zealand. We have a huge range of graduates joining us from science, engineering, planning, arts and IT backgrounds, just to name a few!
In GradNewZealand's 2021 Top100, Beca was voted the No.1 engineering consulting graduate employer and No.3 graduate employer overall in New Zealand.
About our grad programme
Our career development philosophy is simple, you own your own career. On our two-year Graduate Development Programme, we have everything set up so you can drive your own success within a positive and supportive environment.
We believe the best place to learn is on the job so you can expect to work on real jobs for our clients, right from the start. You'll get ongoing support from experienced mentors, development opportunities, support towards professional memberships as well as a yearly graduate conference and access to an established and active graduate social community.
There really is no better place to kick-start your career and start making everyday better in our communities.
Check out the diagram below to see some of the great development opportunities you will get on our Graduate Development Programme.
Got a question? Email us at beca.graduates@beca.com.
Download our Beca Graduate Guide
Aakash Pathak is a Civil Engineer in our Water team in Melbourne, Australia. He studied Civil Engineering at Swinburne University of Technology.
Ashley Sim is a Structural Engineer in our Christchurch Southern Structures team. He studied Civil and Structural Engineering at Canterbury University.
Natasha Neeve is a Process Engineer in our Water team in Melbourne, Australia. She studied Chemical and Materials Engineering at the University of Auckland.
Patience Chabva is a Process Engineer in our Industrial team in Brisbane, Australia. She studied Chemical and Materials Engineering at Auckland University.
Meet our graduate development lead, Ash Jones, as well as some of our grads and senior leaders.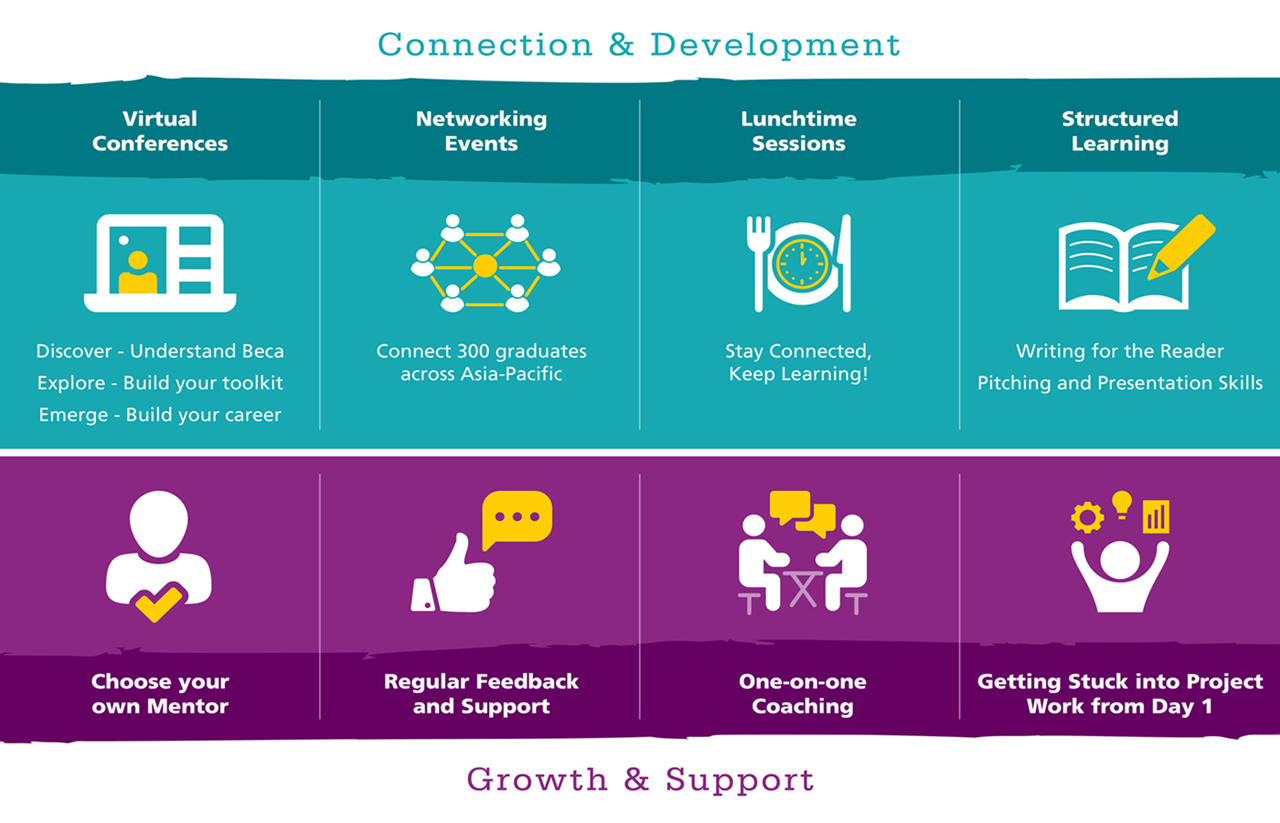 How does the grad application process work?
Apply open. Applications for our 2022/24 Graduate Programme open 13 March 2023!
Apply online. The first time you apply, you'll need to create a username and password on our application tracking system. You'll need to upload a cover letter, your CV and academic transcript (we know this won't be your official one, so just send us where you are at so far). You'll also have the opportunity to complete video submissions, which are optional, to support your application. Please make sure you answer all of the application questions to the best of your ability!
Applications close. If your application isn't successful, we encourage you to keep in touch as we have other graduate opportunities throughout the year.
Applicant screening begins. Once applications have closed, ALL of the applications will be reviewed by one of our recruitment team. If we shortlist your application, we will share it with our discipline leads and if they think you could be a good fit, one of our team will get in touch with you to invite you for an interview. If you aren't selected, we will let you know via email. If you choose to opt-in for job alerts you can see when new roles are advertised – who knows, you might be the perfect candidate for a different role!
Kick-off sessions. Before all interviews begin, all shortlisted candidates will be invited to come along to one of our kick-off sessions. This is a one-hour virtual session where you will get the chance to learn more about Beca, our story, the graduate programme, and ask questions to our current graduates and our recruitment team.
Interviews. This is where it gets exciting, we want to know more about you, what you like to do outside of university and why you want to join Beca! During the interview, you will get the opportunity to talk us through a case study exercise, followed by our standard behavioural based interview questions. Don't worry, you'll be given the case studies a few days before the interview to prepare! Interviews will run via Microsoft Teams. If you aren't progressed to the interview, we will let you know via email.
Employment offers. We'll contact you as soon as a decision has been made to let you know our decision. If you're offered a job, we will complete a reference check and then send your formal offer online through your candidate profile. A background check will be completed, prior to you starting with us and an education check will be completed at the beginning of 2024 to confirm your qualification/s.
Onboarding. We're looking forward to welcoming you to Beca! Most of our graduates commence in early March where you will be welcomed into our Graduate Development Programme and will get a support person (buddy) from within the team to assist you and gain a better understanding of Beca.
Becoming a summer intern
Applications for our 2022/23 Summer Internships have closed
If you're looking to gain work experience and have fun along the way, a Beca Summer Internship is the place for you! Our summer interns across Australia and New Zealand work full-time in a Beca office.
When do applications open?
Applications for the 2022/23 Summer Intern intake have closed.
How long is the internship?
Our summer students usually start work in mid-November after exams are finished. The intern programme is 8 weeks long with 2 weeks off over Christmas and New Year's, so you'll finish up in mid-February.
What will I do as a Beca intern?
You will work alongside other interns on a summer intern project – a real business problem facing our industry. You will also get to attend our famous Beca Summer Intern conference at Beca HQ, networking events and interactive workshops.
Will I get paid?
Yes! Your hourly rate will depend on your experience, year of study and any extra qualifications. But don't worry - it's a competitive rate in the market!
What kinds of interns does Beca take?
That depends on the needs across our business each year. In the past we've taken a mixture of engineering students with an interest in civil, electrical, geotechnical, geology, software, mechanical, structural, transportation. Some years we also take survey, GIS, planning, HR, cost and project management students. We'll share the locations and positions on our website when applications open - follow our Grad Facebook and Instagram for updates!
Why should I choose Beca for work experience?
We've got over 1,500 technical gurus, so you'll have the opportunity to work alongside some of the best in the industry. You will gain invaluable consulting experience from our multidisciplinary support network. Plus, you will get exposure to a huge range of markets, from water, defence, education, healthcare, transportation and infrastructure, to food and beverage and power – helping you decide what interests you!
Still got questions?
Follow us on Facebook and Instagram or email beca.graduates@beca.com.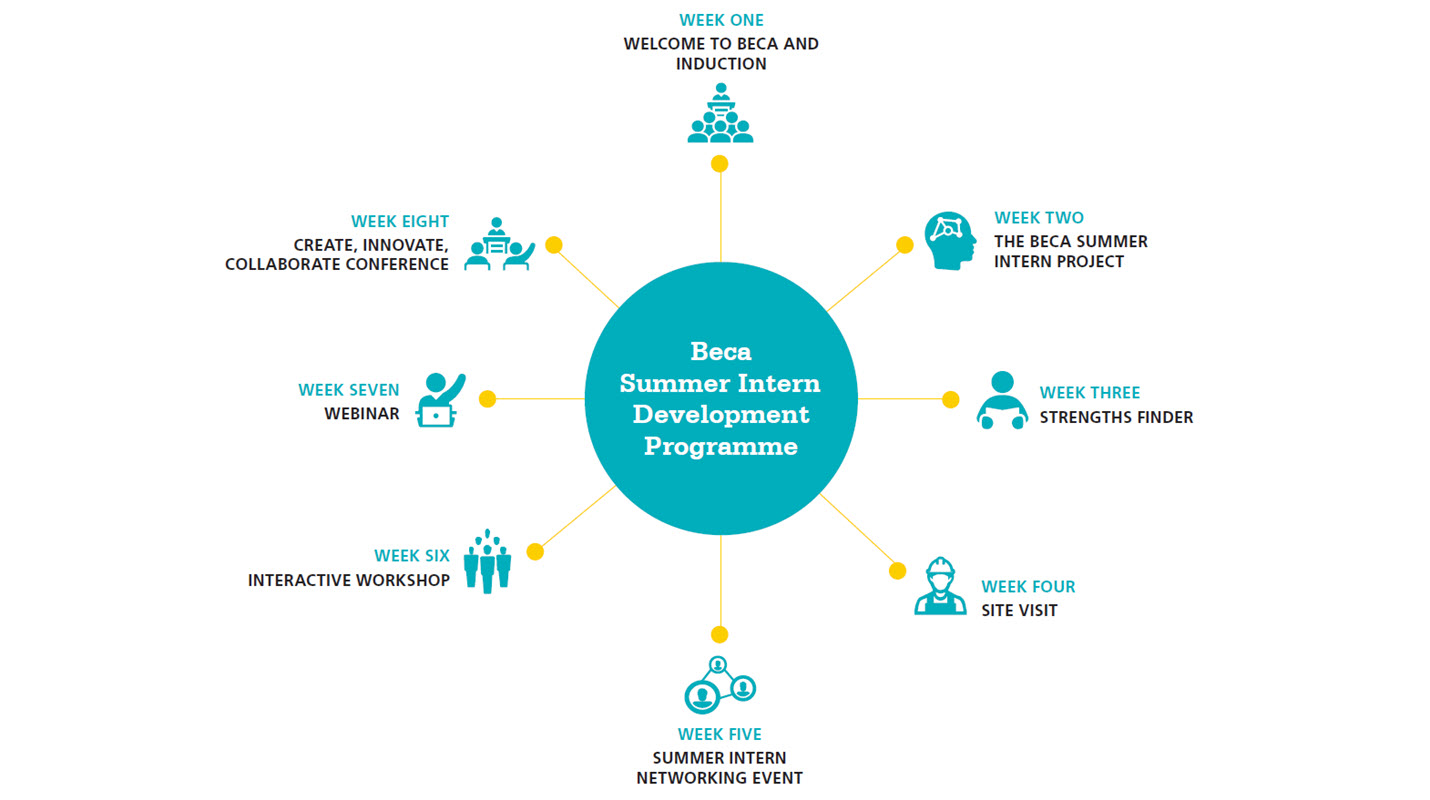 We can guarantee you will meet some pretty incredible people along the way and make some awesome friends!
Our first year grads taking part in the grad conference Amazing Race challenge around Auckland city.
Our 2020 Auckland Summer Interns got to do a site tour of the America's Cup base.
We can guarantee you will meet some pretty incredible people along the way and make some awesome friends!